Whether you rent an apartment, a house or if you live in someone's basement, you need to consider tenant insurance. Tenant Insurance in Ontario is affordable and can help protect yourself and your belongings in the event of a flood, fire, theft or more.
What does Insurego's Tenant Insurance Include?
Insurego's Tenant Insurance includes personal property insurance which helps pay for the cost of rebuilding your life after a devasting event. It also includes personal liability in the event someone is injured on the property, or if you are responsible for damage to someone else's property. Insurego's Tenant Insurance also includes additional livingexpenses which gives you up to 40% of the value of your contents to help cover the cost of hotels, meals and other expenses associated with getting your life back together.  
Do I need Tenant Insurance?
Our friends Taylor and Rachel lost everything in a fire 9 years ago and they didn't have tenant insurance. Here's a short 3-minute video that summarizes their story.
We get it, we've rented at some point in our lives too, and we know that nobody wants to think of the worst-case scenario. It would never happen to you right? Well, unfortunately, it could.
Real Life Tenant Insurance Scenarios
You come home after a long, tiring day at work. You just want to make something to eat, have a shower and get to bed. So, you start cooking your dinner when there is a knock at the door; it's your neighbour and their dog is missing. They ask if you've seen it and not thinking in your tired state, you offer to help them find it. So you put on your shoes and head out. After 10 minutes, the dog is located and you come back to your place to see that your kitchen is on fire. The pan caught fire and now smoke has engulfed your apartment. You call 911 and the fire department arrives but the fire has spread to the bedroom and your furniture, clothes and computer are all gone. Insurego's personal property insurance would cover the costs to replace your items up to your insured amount.
Your neighbour is hosting a party to celebrate their beer league softball team's end of season tournament win and 12 of their teammates are over. Two of their teammates are talking on the balcony when one of them accidentally knocks a cigarette off the balcony and it falls into a flowerpot below. Nobody realizes the flowerpot is smoldering and it eventually catches fire. The fire spreads and the entire building catches fire. It's a total loss and everyone in the 5 unit building is now homeless.  You come home from a jog to find your place has burned down with all your contents, passport and ID inside. Where would you stay? Without a kitchen in a hotel room, how much would it cost to eat every day and night for the entire duration? Insurego's additional living expenses would cover the cost of living in a hotel, meals, moving expenses and the costs to replace all passports and IDs.
You are filling the bathtub up when your cellphone rings so you go to grab it in the next room. Your significant other has been involved in a minor car crash, no injuries or anything like that, but they don't know what to do.  So you go to your laptop and start Googling what they should do. You spend the next 25 minutes talking to them and making sure they are ok. You then realize you've let the bathtub overflow. Water is everywhere, it has soaked your floor, the carpet in the hallway, and water has now damaged the unit below you. Your negligence has caused damage to your neighbours and their landlord comes after you to pay for their damages. Insurego's personal liability insurance covers you with up to $2 Million dollars in protection to cover legal expenses and financial payouts due to your negligence.
Get Tenant Insurance in Minutes
Life can change in an instant. Sometimes things happen that are beyond our control. Sometimes you need a helping hand, and tenant insurance can be that helping hand, but only if you have it!  At Insurego, we give renters an ability to buy tenant insurance online and instantly get a proof of insurance since most landlords require a proof of insurance as a condition of renting.
Get insured in minutes by filling out our easy to use application form and protect yourself from the unexpected.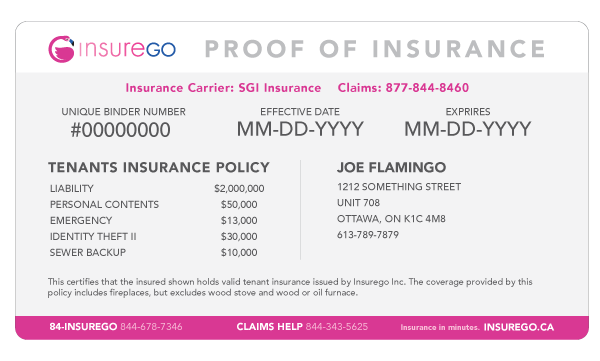 You might also like